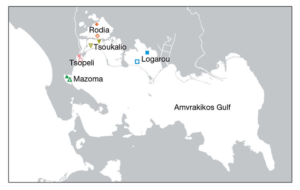 Use case title (contact person)
Microbial community diversity in the lagoonal complex of Amvrakikos Gulf (Ionian Sea, Western Greece) (Dr. Christina Pavloudi, IMMBC, HCMR)
In brief: description of the pertinent project
The aim of this project is to explore the biodiversity patterns of microorganismic assemblages and to examine whether these patterns are associated with those of the contextual environmental parameters. For this purpose, sediment samples were collected from five lagoons (Rodia, Tsoukalio, Tsopeli, Mazoma, Logarou), located in Amvrakikos Gulf (Ionian Sea, Western Greece). In each lagoon, two sampling stations were chosen, with different connectivity degree with the sea. A number of abiotic parameters were measured for every station, including the sediment concentrations of heavy metals and elements. Microbial DNA was extracted from the sediment upper layer (0-2cm) and was further processed through deep sequencing of the the 16S rRNA gene and the dsrB gene by next generation sequencing.
(e.g available software, memory, storage) Requirements can be described in plain language e.g. ¼ of the "batch" partition for 2 weeks Technical language is also possible (e.g. CPU hours, workflow details)
The were about 300.000 raw sequence reads, from 57 samples. A series of bioinformatic tools were used, such as AmpliconNoise, QIIME, MUSCLE, EPA, RaxML, Seqenv etc.
Relevant publication if available
Pavloudi C, Oulas A, Vasileiadou K, Kotoulas G, De Troch M, Friedrich MW, Arvanitidis C (2017) Diversity and abundance of sulfate-reducing microorganisms in a Mediterranean lagoonal complex (Amvrakikos Gulf, Ionian Sea) derived from dsrB gene. Aquat Microb Ecol 79:209-219. https://doi.org/10.3354/ame01829
Pavloudi, C., Oulas, A., Vasileiadou, K., Sarropoulou, E., Kotoulas, G. and Arvanitidis, C., 2016. Salinity is the major factor influencing the sediment bacterial communities in a Mediterranean lagoonal complex (Amvrakikos Gulf, Ionian Sea). Marine genomics, 28, pp.71-81